School of Business (Dean Gyu Chang Yu) at Hanyang University has achieved accreditation for five additional years in three consecutive times by AACSB International – The Associate to Advance collegiate Schools of Business.
Founded in 1916, AACSB International is the longest serving global accrediting body for business schools that offer undergraduate, master's and doctoral degrees in business and accounting. AACSB Accreditation is the hallmark of excellence in business education and has been earned by less than five percent of the world's business programs.
In April of 2010, HUBS (Hanyang University Business School) was granted full accreditation by AACSB International. This is the second extension of accreditation of AACSB. During five years, HUBS has succeeded in demonstrating leadership and high-quality continuous improvement in management education.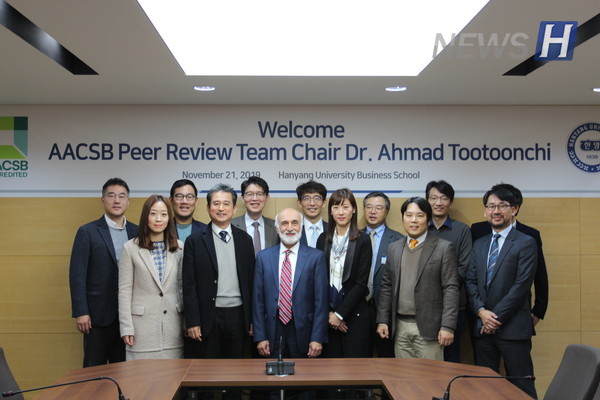 AACSB peer review team commended on the best practices including: development and implementation of Alumni Career Mentoring program; Business Informatics as a new track in the MS program; establishment of an in-house Center for Social Innovation to engage faculty and students in social innovation activities; "Business Education Center" with executive classroom settings that facilitates interactions and learning opportunities for HUBS faculty and business leaders from big corporations in South Korea.
Especially, "Big Intelligence Business Education (BIBE)" for enhancement of students' knowledge of advanced technology and nurturing their skills in dealing with big data is evaluated as excellent activities and recognized by AACSB as a "best case" for education innovation and it has been introduced at 2018 AACSB Annual Accreditation Conference and 2019 Asia Pacific Annual Conference.
"The extension of accreditation is the confirmation of HUBS excellence, and fruitful result of efforts of our members including the faculty, the staff, the students and all supporters of HUBS. The reaccreditation of our institution affirmed that HUBS' vision of being a 'Global Leading Business School" is recognized internationally," said Dean Gyu Chang Yu.